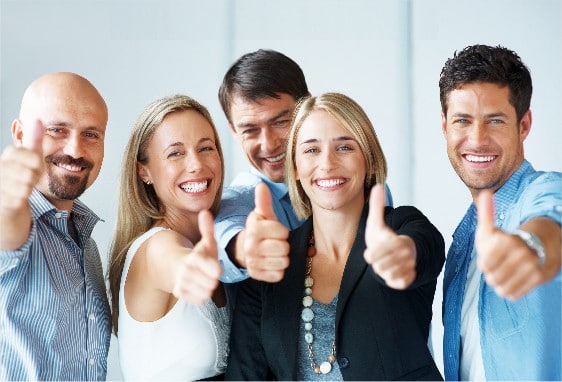 Quotes & Raves From Some of our Gracious Customers
Flashback would like to thank our customers that took the time to write us great reviews. We would like to recognize these people with their review submissions below. Don't take our word for it. Here are some of the Best Party Band Raves in the Kansas City Area - Flashback reviews.
Building satisfied customers, one response at a time
Questions?? Contact Us Today.
We thought this band was amazing! We had the 8 pc. Band for a very reasonable price! Their singer was awesome and the horns added such a fun touch. The song selection as great and had everyone dancing for every song. We indicated that we didn't want any slow songs or line dance songs in order to keep everyone on the floor and they accommodated without question. Such a fun time! We have had several guests inquire about the band because they would like to use them. We had heard them about 7 years ago and grabbed their card and now I'm so glad I did!
-Annie S
The band made our whole night, it was unbelievable! Everyone loved the band and people are still texting me about you all and had so much fun dancing! I was just blown away by you guys! So talented and every song was great!!! Thank you again...
-Julie Malone
You all do amazing work! Your talents are one-of-a-kind and Nate and I appreciate all your time & enthusiam you shared with the wedding group tonight. Thank you for being so engaged & keeping the crowd entertained & dancing all night long! From the first time we heard you play, roughly 2 years ago, we knew we wanted you to be a part of our special day!...
  -Angie & Nate Bruns
Thank you so much for making Soiree 2017 a roaring success. You guys help make Soiree so much fun. We are so lucky to have you perform each year. Thanks again for your participation and we look forward to dancing to your awesome tunes again next year!
  -Catholic Charities Soiree Committee
Thanks again for a wonderful night.   Comments are so positive that I can't imagine holding a Mardi Gras party without Flashback.
  -Stan Nill    Holy Trinity Catholic Church
Flashback was at the top of their game, and they had people dancing and singing all night long. A lot of people commented how great the band sounded and how good the acoustics were in this room as well.
-Gabriel Choikhit - The Baltimore Club
Flashback"... a fabulous band!
-Michael Nolte -  Nolte's Bridal
"The Catholic Charities of Kansas City-St. Joseph Soiree last night sponsored by their young adult board was amazing. The dance floor was packed and electric all evening! The band captivated and thrilled dancers of all ages. (from twenty year olds to the seventy year olds). The brass, percussion, guitars & vocals were awesome. "
-  Mary Ann Caffrey
As an event planner you are always trying to find bands and that are fun and easy to work with.  Every detail and aspect of that band is important because it is my belief that your entertainment can determine the success of any party.  Flashback has been to Mission Hills several times and each time they are easy to work with, efficient with their set up and tear down, but most importantly they are great with any crowd.  I have not had an event where people are not up dancing, singing, just having a ball when this group is playing.  I am always impressed by the improvements they are constantly making to lights, set up and sound.  I admire groups that continue to find ways to be bigger and better.  I look forward to having them here at Mission Hills again very soon. "
-   Alyssa Ashby   Event Planner  -   Mission Hills Country Club
The band, Flashback, from Kansas City, was the perfect choice for our wedding reception.  We wanted to infuse a feeling of fun and excitement for our guests, who were diversified in age, culture and music choices.  Flashback brought them to their feet and kept the party alive all evening. They used multiple vocalists for the various songs so you never tired of hearing them.  We attended several of their venues before booking them, as well as interviewed other bands, and this multi-talented 7-piece group kept the party going all evening.   When midnight came, and they were finished, my daughter (the bride) felt like it could have lasted another hour and was enjoying them until the very end like the rest of us.
We had many guests say it was the best band they had ever heard and we agree, they are fantastic and an excellent choice for your next event!"
-Jud and Linda Neal
Dear Members of the "Flashback Band", Please accept my sincere gratitude and appreciation for your excellent performance at the NAACPs 101st National Convention in Kansas City, recently. Also, please know that I am proud to share with you that your band was chosen as the most impressive and fun driven band of all the musical artists, including National, by delegates and participants of the convention. It was brought to my attention that this selection was made based upon your All-Star rhythm section, masterful accompanists, versatile drummer, and songs filled with strong hooks and melodies that captured the audience and solidified this recognition. Also, your ability to provide a mixture of contemporary, soul, funk, and blue-eyed soul, encouraged audience participation including a 79 year old great-grandmother who refused to stop dancing. Again, thanks for a job well-done and please know that I look forward to future business with your outstanding band."
Sincerely,  -William Swoopes For the Company
"Hey Mario, Just wanted to quickly say thanks for everything last night...the band was awesome and really made the party great!"
-Colleen
My name is Caitlin Flournoy and my husband and I hired Mario Brancato and his band Flashback for our wedding on April 24th, 2010. I honestly don't think we could have chosen a better band to play at out wedding. They did an amazing job playing songs that everyone could dance to and trust me, everyone did. The dance floor was packed the entire night. They even brought along a cow bell for some audience participation. Flashback played all the songs that everyone knows such as "Sweet Caroline" and "Good Golly Miss Molly" and so it was easy for everyone, including the older folks, to get up and dance. The best part for me was that the band went out of their way to learn and play our first dance song "I'm Yours" by Jason Miraz. It sounded better then the original and was such a special moment for my husband and me. After the wedding, we received tons of compliments from our guests saying it was the most dancing they had done at a wedding in a long time. There is no understatement to say that the band was the highlight of the reception. I would absolutely recommend Flashback for any one looking for a band. This band has such energy and passion when playing. You know that are having a great time and that energy translates to the crowd. They are such an amazing band and I know anyone looking to book them won't regret it!
-Caitlin Flournoy